Maria Lannote – Italy

Maria Lanotte ka lindur në Pulia (Itali).
Pasioni i saj për artin, vizatimin dhe fotografinë e shtyu menjëherë të ndërmerrte kurse trajnimi që synonin zhvillimin dhe integrimin e pasioneve të saj përmes formave të reja të shprehjes dhe teknologjive të reja.
E diplomuar për dizajn grafik, ajo është pronare e agjencisë së komunikimit të grupit mediatik EOS që nga viti 2003.
Më pas ai mori një diplomë në komunikim dhe dizajn ueb (dreamweaver – flash)
Certifikatat e specializimit ADOBE: bardh e zi, retushim i lartë, retushim kreativ.
Tutor dhe anëtar i jashtëm i komisionit të provimeve të shkollës së mesme në Institutin Garrone Advertising Graphics në Pulia.
Mësues në Woom Italia: Komunikim & Marketing, Grafikë Reklamimi, Historia e Kostumeve.
Në vitin 2010 fitues absolut i konkursit të çmimeve të kategorisë OPEN Nikon-FIOF
Në vitin 2011 argjendi dhe bronzi në kategorinë OPEN.
Në vitin 2015 fitoi Kualifikimin QEP, Fotograf i Kualifikuar Evropian, lëshuar nga Federata Evropiane e Fotografisë FEP.
Në 2019 Master në Dizajn Ekspozitash në IED Istituto Europeo Design
Ekspozita personale: Ciao Cuore, një projekt për të rritur ndërgjegjësimin për sëmundjet e zemrës, Sulle orme del Penguino, një projekt për përmirësimin e familjes, Hëna ime, një projekt i krijuar për përvjetorin e uljes në Hënë.
Nga viti 2012 e deri më sot, ai është drejtor artistik i Fondit Ndërkombëtar FIOF për Fotografi, Video dhe Komunikim.
Drejtues i Departamentit Ndërkombëtar të FIOF-it, ka mbikëqyrur projekte shkëmbimi kulturor me Kinën, Rusinë, Shtetet e Bashkuara, Evropën, Shqipërinë, për promovimin e kulturës fotografike në botë.
Ai ka kuruar dhjetë ekspozita ndërkombëtare fotografike (kolektive me mbi 500 autorë italianë).
Drejtor Arti që nga viti 2012 i Orvieto Photography, një nga Festivalet më prestigjioze të Fotografisë në Itali dhe ka drejtuar ngjarje rajonale dhe kombëtare.
Anëtare jurie në konkurse të ndryshme fotografike dhe video.
Në vitin 2022 drejtor artistik i ekspozitës fotografike të Antonio Gibotta Worl Press Photographer, për Shoqatën Altidona Belvedere, në rajonin Marche
Në vitin 2022 ai hap një galeri shtëpie, një vend unik i këtij lloji në Italinë e Jugut, në të cilin pret autorë të rëndësishëm, si Uliano Lucas, Francesco Cito, Maurizio Garofalo, takime, biseda, seminare, klasa master, hapje fotografie për debate me shkrimtarë. , psikologë dhe shoqata kulturore.
Galeria e parë shtëpiake që pret ekspozitën e Maestro Mario Dondero, ekselencës së fotografisë italiane, galeria shtëpiake EOS bëhet menjëherë një forcë lëvizëse e aktiviteteve kulturore veçanërisht për të rinjtë, me marrëveshje me shkollat ​​dhe akademitë e arteve figurative.
"Çfarë më bën të pasionuar pas kësaj bote? Te gjitha!!!
I DUA SFIDAT, kërkimi i vazhdueshëm është sfida ime e vazhdueshme" cit. Mary Lanotte
---
Ardian Isufi – Albania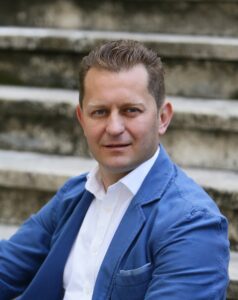 Ardian Isufi was born in 1973 in Tirana and graduated from the Tirana Academy of Arts in 1995 at the Graphics Studio. Since 1996, he has been teaching as an Associate Professor in the Graphics studio. Prof. Assoc. Ardian Isufi 2016-2020 was the Dean of the Faculty of Fine Arts, University of Arts - Tirana. The artist has a long career in the field of visual art, criticism, organizing artistic activities and curating exhibitions. As an artist, he has participated in many national and international artistic activities, in different countries such as Italy, Greece, France, Austria, China, the United States, etc., among others; Tirana Biennale 2009, artist invited by the Albanian Pavilion at the Architecture Biennale in Venice in 2018, participant and winner of the third prize in 2005 and the second prize in 1996 in the "Onufri" International Visual Arts Competition, etc. As a curator and art critic, his activity is very broad, the artist best represents the generation of Albanian artists and intellectuals engaged and active in the entire spectrum of public action. In his work, Ardian Isufi has created a constant relationship with the Albanian public, as an artist or a curator, always trying to confront them with acute social issues, but always investigated from a contemporary and global perspective and approach.
---
Genti Shkullaku – Albania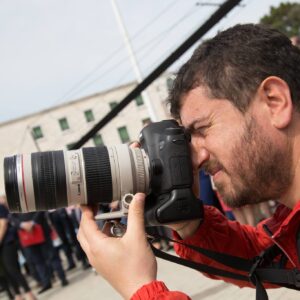 Chief Photographer/Administrator of Light Studio Agency (LSA) - (2000 to present)
• LSA is the leading photo agency in Albania, providing high quality and timely coverage of news and current events for most Albanian (print, online and digital) media. • The agency provides coverage for special events offering bespoke services to institutions (local and international), NGO-s, sporting and other professional bodies.
• LSA provides photo/video/time-lapse services for private companies documenting their project developments or activities in Albania
Agence France Presse (AFP) (2003 – to present) Photographer – Covering news events in Albania (and occasionally in the region). Winner of several internal contests (photo of the day, week or month). With pictures chosen several times as photo of the day, week or month.
Klan Magazine (1999 – 2014) Chief Photographer and photo editor of the weekly magazine Klan. Responsible for providing coverage for current events as well as photo shoots for the magazine. Photo-editing and archive maintenance.
• Koha Jone daily – Photographer 1996 – 1999 Covering news and special assignments FP's photo choice, 2018 o Third price in the 2007 International photo contest for Environment organized by OSCE o Author of the Photo Album "Euro 2016" of the Albanian National Football Team o Participant in various photo exhibitions in Albania and the region o Member of the Jury of the World Bank Photo Competition "Potentials of Blue Albania" o Member of the Jury of Tirana Photo Festival Contest o Member of the Jury of Sunset Albania Photo Fest Contest o Member of the Jury of Mbro & Promovo Contest
---
Agron Dragaj – Kosovo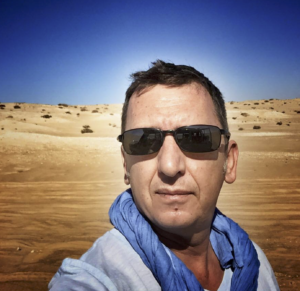 Agron Dragaj is an accomplished Swiss-Kosovar photojournalist and filmmaker currently residing in Jerusalem. He earned his degree from Prishtina University in 1992 and further honed his skills at the esteemed New York Institute of Photography (NYIP). With an unwavering passion for photography, Agron has cultivated a reputation as a versatile, outgoing, and independent photographer. Over more than three decades, Agron has covered significant events across different regions. Notably, he has documented major happenings in the Balkans, including Bosnia and Kosovo, as well as in South East Asia, encompassing Afghanistan, Iraq, Thailand, Burma, Cambodia, Pakistan, Vietnam, and Mindanao in the Philippines. Additionally, his work has taken him to Africa, where he captured poignant images from Mauritania and Senegal. Agron's five-year dedication to creating the documentary "Portraits of Displacement" in Sri Lanka is a standout accomplishment in his career. This remarkable film sheds light on the displacement and humanitarian efforts of UN agencies and I/NGOs. The project delves into the aftermath of the civil war that plagued the region for two decades and the displacement caused by the devastating Tsunami that struck the Sri Lankan coast on December 26, 2004. Agron's exceptional work has been recognised and featured in numerous prestigious publications and media outlets worldwide. His photographs and films have graced the pages of esteemed publications like Time, Geo, The Guardian, der Spiegel, National Geographic, CNN Traveler, Wall Street Journal, Bloomberg, Businessweek magazine, Le Figaro, Daily News, Internacionale, Silver Kris, Etihad Inflight magazine, Amana magazine, JPG magazine, Sky magazine, as well as being utilised by prominent organisations such as UNICEF, UNHCR, OHCHR, WFP, UNDP, IOM, and JTI Foundation for various awareness-raising initiatives and news dissemination. Agron Dragaj's relentless pursuit of visual storytelling has captured audiences' attention worldwide and played a crucial role in bringing critical issues to the forefront of global consciousness. His dedication to highlighting the human condition through his camera lens inspires aspiring photojournalists and filmmakers alike.
---
Jetona Koçibelli – Shqipëri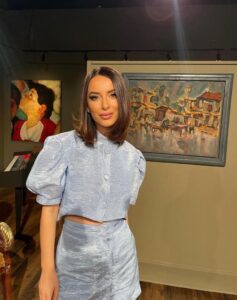 Summary of qualifications More than ten years of experience in TV, as host and author of my show "ArtKand", news reporting and special projects, including documentaries and art history. Popular with viewers and accessible, well travelled, with a genuine interest in a range of subjects. Strong ability to handle complex direct reports. Great storyteller, fast typist. Consistent professional in both newsroom and field reporting. Well known for Albanian culture, art and politics. - Career Achievements Skills and dexterity in all aspects of television journalism; Live Show, very complex documentaries; Able to professionally handle all areas of television newsroom and field reporting work. -Education 1.11.2011-1.09.2016 Master in Public Relations University of Tirana Faculty of History and Philology Department of Journalism and Communication Public Relations 13.09.2008-05.07.2011 Bachelor's Degree in Journalism University of Tirana Faculty of Philology and History.
---
Achilleas Tziakos – Greece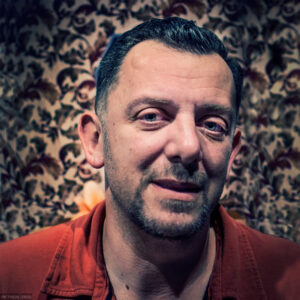 Achilleas Tziakos is a member and founder of Photometria International Photo Festival as well as part of the TedX team in Ioannina. Photometria is the largest grouping of photographic artists in Greece which organizes several important international photography activities and exhibitions. While studying in Athens at the computer school, he worked as an assistant photographer for Akis Safaris PhotoStudio.In 1994 he returned to his hometown, Ioannina, where he founded the Metro radio station.At the same time, he worked as a publisher and photo editor for Greek magazines and newspapers. He has also been a member of the jury in different editions of the Photometria International Festival